Posted: October 27th, 2009 under ApSIC Xbench.
Another powerful new feature of ApSIC Xbench v2.8 is the ability to develop and add QA plug-ins.
ApSIC Xbench QA plug-ins allow you to add your own custom checks within the ApSIC Xbench QA workflow by programming a .dll file with a few pre-defined call-back functions. Your QA plug-in will appear on ApSIC Xbench QA page as shown in the image below for the custom entry Spanish QA.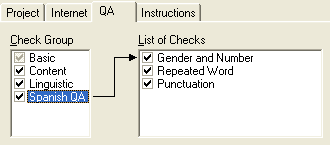 The results of your QA plug-in will be merged with the results of the default ApSIC Xbench checks, and you will be able to benefit from the whole QA user interface, including the very convenient Edit Source function.
A draft of the Programmer's Reference Guide to write QA plug-ins for ApSIC Xbench, can be found here.
Posted: October 15th, 2009 under ApSIC Xbench.
We are happy to announce the release of ApSIC Xbench 2.8 beta! New features of this release include:
New support for Regular Expressions and Microsoft Word Wildcards. Now it is possible to search and add check list items using regular expressions grammar or Microsoft Word wildcards. This allows you to specify very powerful search expressions that we believe that will allow you to reach a new level with QA searches. You can check out the power of regular expressions and learn how to use them by running the sample search templates provided against a large glossary such as a Microsoft Windows software glossary.
Faster search engine. The already fast search engine has been improved in the new search engine to become a 50% faster.
More supported formats. Now it also supports SDLX memories, Atril DejaVu and Idiom files, and Logoport RTF files.
Categories for checklist items. Now you can organize your checklist items in categories and run them selectively.
More fine-grained selection of segments to search. Now you can limit searches to only new segments, only ongoing translation or even exclude locked segments in search results.
And many other enhancements and fixes!
You can download it now from http://www.apsic.com/en/downloads.aspx.
Please do not hesitate to report any issues or suggestions at http://www.apsic.com/en/products_submit_bug.aspx.